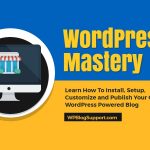 WordPress Was Updated Today.
Here is the important stuff from today's Version 4.8 release of WordPress, named "Evans" in honor of jazz pianist and composer William John "Bill" Evans.
The new features in 4.8 add more ways for you to express yourself and represent your brand.
Here's the one to learn more about – three new media widgets covering:
Images
Audio
video,
Updated text widget that supports visual editing
This WordPress release brings major changes to "Widgets' and Links within your Blog.  WPBlogSupport  Members Sites already have this new version of WordPress installed and active AND any plugins or themes that have been updated as a result of this new WordPress Version being installed.
If you have any concerns or questions just ask for help at https://wpblogsupport.com